Buy and Sell in and around Chester Powered by
Saddle pad,training,exercise,resistance band,riding/lunging
in Chester, Cheshire
Advertised by verypixie, a Preloved member since November 2013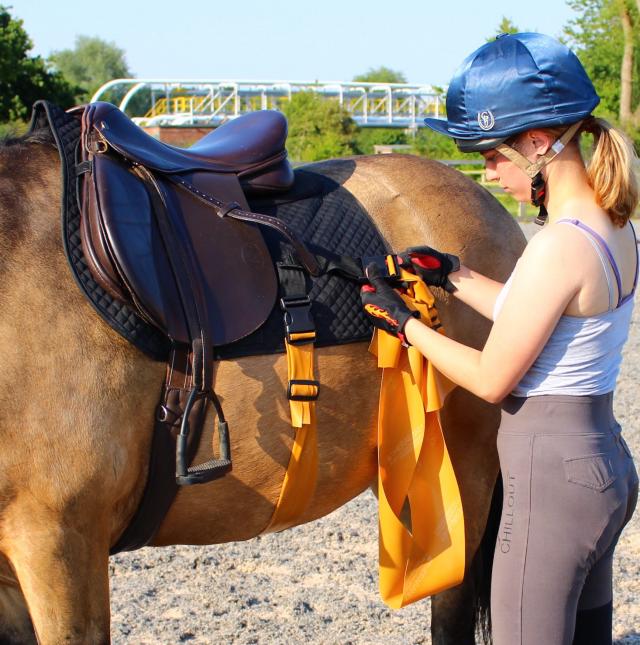 Advert

Details
Item

Price

£70
Advert

Description

FLEXIHORSE PAD
Brand new pad with resistance bands!
15HANDS and below !!
(Please state size of pony/horse when ordering!!)
Or 15HANDS/153CM AND ABOVE!!

LUNGING/RIDING/EXERCISE/TRAINING AID
Yoga for horses!!! Stretch & bend

INCLUDES:SADDLECLOTH WITH NEOPRANE PRESSURE Saddle area with CLIPS to attach gold THERA-ABAND 1m50cm girth/2m50cm hind.

rhythm -self carriage-cadence


THE FLEXIHORSE SYSTEM WILL HELP BUILD AND STRENGTHEN THE CORE MUSCLES.TO HELP YOUR HORSE CARRY HIM/HERSELF INTO A MORE ROUNDED OUTLINE,FLEXIBLE,BALANCED,CORE STRENGTH YOU CAN BUILD ON THIS- IN HAND and IN THE SADDLE .


Riding in your flexipad for training attach your theraband so whilst strengthening the core,works your horse with strong resistance & can build up & strengthen muscles,continuous physical resistance no possible avoidance stratergies,alter a little for the next exercise ,hacking or schooling .

Only the best materials used for the Flexipad.

• (A RHINEGOLD PRESSURE PAD WITH NEOPRANE INSERTS TO REDUCE BRUISING CHAFING /SORES AND MAY REDUCE SADDLE SLIPPAGE • THERA-BAND TO WHICH IN ITSELF IS A LEADING BRAND GOLD IS THE STRONGEST IN EXERCISE RESISTANCE 27.5 POUNDS AT 150% STRETCH.Two lengths: 1m50 cm for tummy and 2m50cm for rear• WEBBING USED IS OF HIGH QUALITY BREAKING STRAIN 2650 POLYESTER .• PLASTIC BUCKLES SIDE RELEASE FOR WEBBING DURABLE MOLDED BREAKING STRENGTH 198Ib,GLIDE 3BAR TO FASTEN IN FOR SECURITY.4 side buckles and 4 3bar slides.• Pad comes in black one size only:24" or 62 cm along spine of pad,depth of pad 20" or 51cm.)

FLEXIHORSE PAD CONSISTS OF:-A SADDLE PAD WITH A SECURE ADJUSTABLE FASTENER NEXT TO GIRTH STRAP TO :-

FASTEN THE SHORT UNDER BELLY THERA-BAND TO ANOTHER SET OF CLIPS FASTENED SECURLY IN THE RIGHT CORNER OF THE PAD FOR THE LONGER THERA-BAND WITH CLIPS TO FASTEN UNDER THE BUTTOCKS.

MAKE FASTENING WITH CLIPS AND 3 BAR SLIDES SO NOTHING IS FLAPPING DURING LUNGING OR RIDING,MAKE SURE ALL FASTENED AND SECURE.

ADJUST BANDS TO A TAUGHT TENSION SO THE HORSE CAN LIFT UP THROUGH THE BACK TO ENCOURAGE HIM/HERSELF TO HOLD THEMSELVES TO STRETCH AND BALANCE ALL IMPORTANT FOR CORE STRENGTH AND FLEXIBILITY.

High resistance whilst riding in the saddle for a full core workout !!


THIS SYSTEM IS A VERY GOOD WAY TO STRENGTHEN YOUR HORSES CORE YOUNG OR OLD ,

ATHLETIC OR REHABILITATE ITS YOGA FOR HORSES.

1. DESENSITISE HORSE WITH THERA-BAND,LET HORSE BECOME ACCUSTOMED TO ALL SENSATIONS,POSITIONING.

2. TO START WE SUGGEST LUNGING YOUR HORSE TO CHECK TENSIONS AND FLEXIBILITY WHILST MOVING IN ALL 3 GAITS.

3. 2 OR 3 TIMES A WEEK OF 20 MINUTE SESSIONS YOU SHOULD SEE AN IMPROVEMENT IN A WEEK OR TWO.

4. IF RIDING IN YOUR FLEXIHORSE ALWAYS DISMOUNT TO MAKE FASTENINGS AND ANY ADJUSTMENTS!!! THEN RE-MOUNT!!!!

5. WHEN STARTING TO RIDE IN YOUR FLEXIHORSE START WITH SHORT BURSTS OF EXERCISE HORSE MAY BE UNUSED TO THE RESISTENCE SENSATION ON CERTAIN MUSCLES AND MAY FIND THE WORK DIFFICULT!


ALL RESPONSIBILITY LIES WITH THE INDIVIDUAL USING THIS PAD USE ALL SAFETY EQUIPMENT WHEN HANDLING AND EXERCISING HORSES SUCH AS A HARD HAT,GLOVES AND SUITABLE FOOTWEAR........BE RESPONSIBLE!!!!!!!



CONSULT YOUR EQUINE PHYSIOTHERAPIST/VET BEFORE USING THIS PRODUCT.




"Self carriage,rhythm and hock engagement at all the 3 gait with the same speed and frame were the standards to judge.They rode at a steady pace their horses clip clop sounds in cadence with each other".



Any messages I will get back to you asap.

TWO SIZES OF BANDS ARE AVAILABLE 15H AND UNDER 15H AND ABOVE



Refund can only be given if unused and still in packaging .

I hope you will be happy with your flexipad.

payment in 3 days expected please.



Ponies not included!!!!



•Free postage!!